Business Model
We provide investment opportunities and asset management services to domestic and international investors through a product lineup covering a wide range of needs by utilizing Mizuho Financial Group's resources—information from the broad Group customer base, disposition needs of business partners and financial services—and leveraging our, Mizuho Realty One's and Mizuho REIT Management's strengths.

Asset Management Business
Creativity × Realization
Ability to create and realize the right business plans
We provide creative asset management services for maximizing investment performance by leveraging the know-how and experience we have accumulated in various asset types, investment forms, developments, etc.

Over 1,000 billion (JPY) × Over 10 Years
Asset management know-how backed by a track record of over JPY 1,000 billion in cumulative AUM over the 10 years since establishment
Since commencing the business in 2002 (Note), we have accumulated a track record in origination of funds covering a wide range of investment criteria and investment targets with the creation, expansion and maturity of the Japanese real estate securitization market.
Note: The year of establishment of former SIA from which our business originated.
Cumulative AUM (Private Funds) in Past Nine Years (from April 2012 to end of March 2021)
New AUM was JPY 56 billion in fiscal 2020, which is surpassing the AUM for the previous fiscal year.
Self-sourced property information reached 1,460 potential assets amounting to over JPY 2,900 billion (seller's asking price basis) in total in fiscal 2020.
The following is our track record of cumulative AUM in the past nine years (from April 2012 to end of March 2021).
Total Acquisition Price
Investment Targets
Separate accounts
Third-party investment fund
JPY 515 billion
Office, hotel and healthcare in
Tokyo, Yokohama and Osaka
REIT bridge/warehousing funds
JPY 84 billion
Office and residential in Japan
Total
JPY 599 billion
Engineering × Value+
Proven solid value enhancement engineered by team of architectural experts
We maximize asset value from technical aspects by utilizing the expertise of our team that includes members with career backgrounds at general contractors and architect offices and our accumulated database of over 10,000 construction work cases.
Case Examples of Initiatives
We strive to reduce the risk of tenants moving out and maintain and enhance occupancy rate and rent by proactively implementing renovation of common areas, etc. to provide an office environment of a high degree of satisfaction to tenants.
Sphere Tower Tennozu
We renovated the common areas, mainly the portion from the approach to the entrance, making the most of its characteristic of being directly connected to the station.
As a result, differentiation from competitive properties in the Tokyo Bay area and enhancement of occupancy rate were achieved.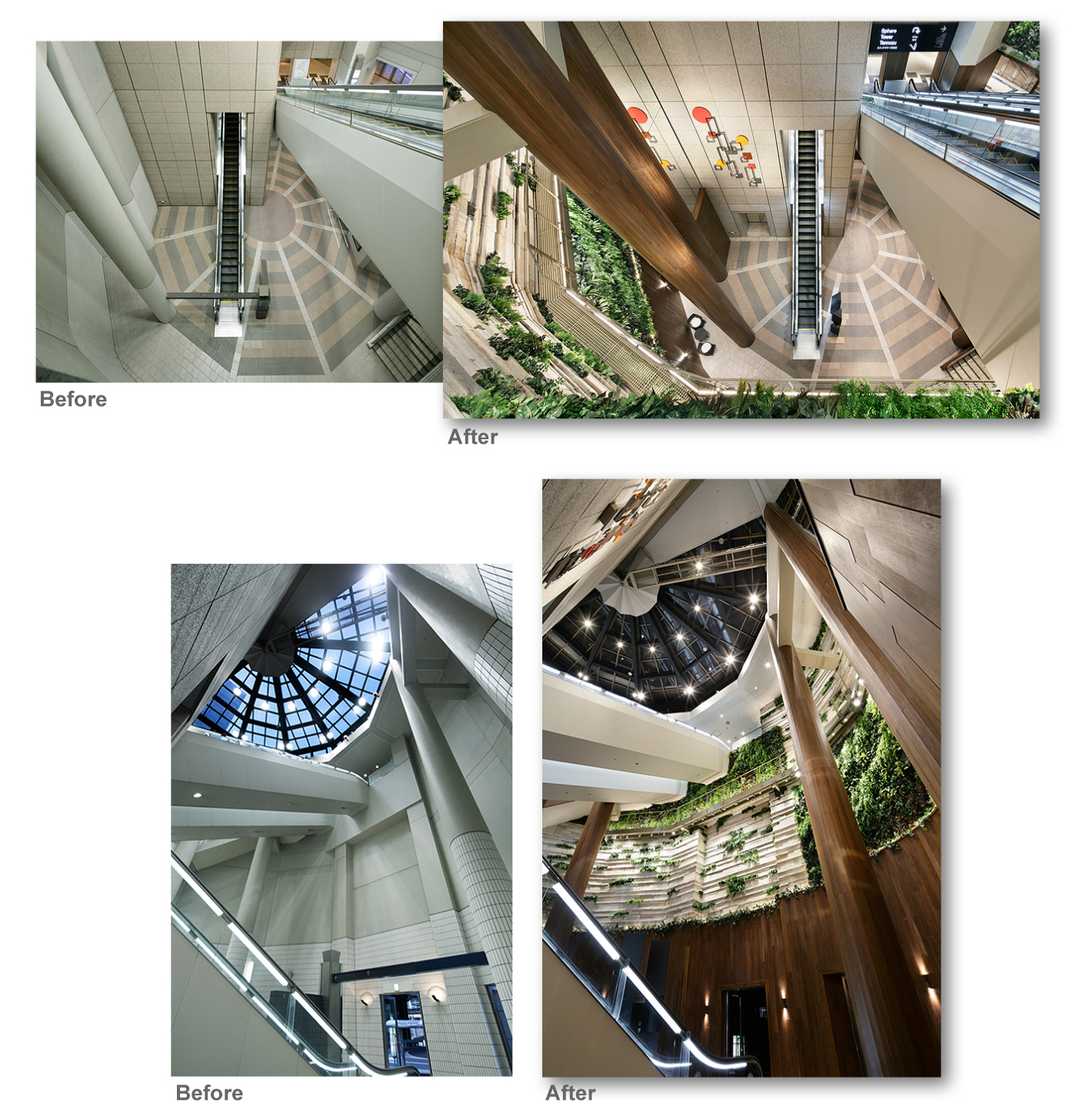 Osaka Kokusai Building
We renovated the portion from the approach to the entrance hall with the intent to maintain its status as a landmark building and enhance tenant satisfaction.
As a result, these turned out to be initiatives that lead to enhancement of occupancy rate.